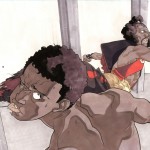 Over the years I have found some great artwork inspired by The Last Dragon here are my favorites:
(many have asked about buying T-shirts and prints, you can buy some of them, click the title or image to check. Also if you are interested in T-Shirts be sure to read: Where to Buy The Best Last Dragon T-Shirts)
Shonuff Demotivational Poster by MotiFake.com
Apparently Motifake will make a T-Shirt outta this picture that was original created by Jason Mason (MaseOne on Deviantart.com):
Sho'nuff & Bruce Leroy by Dave Perillo
Found this one of Bruce Leroy about to the bring the Glow on an overconfident Sho'nuff  years ago.
Recently found the next 3 great works by Matt Hennen.
Be sure to check out our feature on Matt. On his blog he adds some good commentary about the scenes and the Last Dragon in general.
"When I say you Who's the Master, you say…" by Matt Hennen
SHO'NUUUUFF!!!!!
Great image from the Classic Final Fight between Sho'nuff & Leroy
"Chop, Chop, Holy Ass" also by Matt Hennen
Leroy first attempt to meet the Master "Sum Dum Goy" is thwarted:
"Ain't no masters here dude, ain't no slaves either… The Master doing his wisdom thang… you want wisdom you buy fortune cookie… Take a hike cool breeze… Look here chump the Master don't see nobody! Specially no jive cooley's…  Yeah he don't see no one who don't know how to get down baby! you dig bro you too square! Let me say it so you he can understand Jim. You go now, chop, chop, Haulee ass outta this place!  Am I sayin' it right, my man? Like, hasta la pasta, you know? – Hasta lumbago! – Sayonara! – Catch you on the flip-flop! – Sayonara!"
Last one from Matt Hennen: "The Tank"
Eddie Arcadian & Rock discuss the creature in "The Tank".
Eddie: I thought I told you to get rid of that thing.
Rock: You also told me, "Keep it, it comes in handy." Remember?
Eddie: Yeah, I remember! Damn, that thing gives me the creeps.
The Last Dragon Poster by Mauro Balcazar
Extra special thanks to Mauro Balcazar who has let me use this great original Last Dragon Movie poster on this Blog, The main Last Dragon Tribute Site and The Last Dragon Facebook Fan Page.
Mauro makes T-Shirts and even does Requests! Visit: Great T-Shirts by Mauro or check him out on Twitter @maurobalcazar
Thanks Again Mauro!
"Shonuff of Harlem" by Anthony Metoyer found on My Spill Community Forum
Love this original one of Sho'nuff. After posting it on Instagram, I finally found out that Anthony Metoyer drew it.
 "Kiss My Converse!!" by Chris Carman
After all these years this great plug for Chuck's lives on!
The Sho'nuff Comic Book cover by Elliot Fernandez.
Man I would  love to see the rest of this Comic Book!
The Biggest Baddest Mofo Lowdown around this Town!
Found this one a couple years ago on site that no longer exists called mofovisualz.
"Bruce Leroy vs Sho'nuff" by Shaun O'neill.
This is just plain awesome!
Another one I found years ago depicting Sho'nuff's partial red glow.
Leroy Green Describes the partial glow:  "A great fighter, for instance might be able to get just his hands to fill with such power  that they would get the glow, which could be deadly if it fell into evil hands…"
Also check out: Fatoe.com for some more cool artwork
Which piece is your favorite? Know of any other great Last Dragon inspired art? Comment Below:
Want to see more?
Check out:
For more unique The Last Dragon, Martial Arts and other cool cult classic Movie inspired T-Shirts made by independent artist visit my favorite's gallery on Redbubble~>
—————————————————————————————