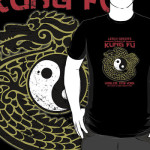 Looking for the Baddest Last Dragon T-Shirts around? Sho'nuff you say? Well you've come to the right place. Below you will find a list of the greatest Last Dragon T-Shirts I've come across on my journey to keep the Glow alive.
The number of artist who have been inspired by The Last Dragon is unbelievable. There is so much amazing and unique Last Dragon inspired art online. I try to bring exposure to these great artists by sharing all the art I can find either through this site or social media (particularly on instagram), but the best way to flaunt it is to wear it!
I own a few of the unique Tees below and when I wear them people always asking "where did you get that?" Wonder no more. Here's The Last Dragon Tribute's list of the best, baddest, meanest and prettiest Last Dragon Tees around along with where you can buy them. Just click on the title, artist or picture to visit the site where you can buy the T-Shirt for yourself! Most them feature a Sho'nuff or Bruce Leroy reference or quote from the movie.
The Top 15 Last Dragon T-Shirts of All-Time!
(it started out as a top 8 and has and will continue to expanded over time)
by Bexclusives and Team Okee'Doke
There is even a version of this shirt that actually glows in the dark!

Ever wonder what the name and location of Bruce Leroy's Dojo was? Well here you go…
by Hypernerd Creative
This one makes for a great Fantasy Football Logo! If Sho'nuff owned a NFL football team this would be his helmets.
by Mauro Balcazar aka agliarept
Yup this is the original version of the art we use for our logo.
by Tim Blair
One of the most infamous and most quoted scenes in The Last Dragon.
Mauro designed this to premier at the UASE's Last Dragon 30th Anniversary Celebration . It features the hierarchy of villains Leroy must defeat to reach the final level achieve the Glow!
A Badass Sho'nuff remix of the infamous old school RUN DMC logo.
by Filmowski
"Bruce Lee's Medallion" aka the Belt Buckle Leroy's teacher gives to him as charm to help him on his path to finding the master.
by Donkey Tees
The Last Dragon's #1 Quote

by popnerd
Sho'nuff remix of the Showtime logo
by InkOne
Iconic Sho'nuff "Playtime's Over" pose with the red glow
by Troy Perry
Artistic impression from the final showdown between Sho'nuff & Bruce Leroy. The actual image was made famous for appearing on the first DVD cover in the early 2000's
by SholoRobo
Sho'nuff's emblem from his wild urban samurai outfits turned into a logo for his dojo.
by Mauro Balcazar aka agliarept
Just Directa Your Feetza to "Daddy" Green's Pizza- Another one of The Last Dragon's most famous lines…
by PopNerd
Simple but stylish, includes Sho'nuff's emblem
This is the place to find the coolest Bruce Leroy and Sho'nuff  Last Dragon inspired T-Shirts! We will be constantly updating this list. Visit our T-Shirt page for our own exclusive line of  The Last Dragon Inspired T-Shirts.
For more unique The Last Dragon, Martial Arts and other cool cult classic Movie inspired T-Shirts made by independent artist visit my favorite's gallery on Redbubble~>