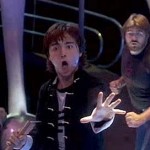 Remember Johnny Yu from The Last Dragon? Bruce Leroy's hilarious student who stood up to Sho'nuff and his goons in the famous "Kiss my Converse" dojo scene. He claimed to have "mastered the art of fighting without knowing how" and described himself as "a medium sized oriental". I have always wondered what happened to this charismatic young man who seemed to have so much potential as an actor after his breakout debut in The Last Dragon.
The Last Dragon's Johnny Yu was played by Glen Eaton, after The Last Dragon (1985),  he appeared in Penitentiary III(1988) and Trained to Kill (1990). Here's the trailer for  Trained to Kill:

After 1990 Glen Eaton all but disappeared. Until now! 22 years later; we've found him! The Fan Tribute to Last Dragon has done it again, first before Twitter and Facebook made it easy, we found Taimak (Bruce Leroy), then we tracked down and got an exclusive interview with Leo O'Brien (Richie Green) and now we've found Johnny Yu!
**Update Check out this January 2015 Interview with Glen Eaton. Him & Guest writer Clarke Illmatical talk behind the scenes of The Last Dragon, Martial Arts Entertainment History and much more….
Glean Eaton can be seen in this interesting 2012 short film called Duplicate. Not only does he star in the film but he also co-wrote it with director Michel Pinto. Check it out:
There are also a bunch of other videos directed, written by and/or featuring Glen Eaton on the YouTube Channel PoetryNMotions. Is anybody else as happy as me to see  Johnny Yu again? I get really excited about this kind of stuff! In honour of finding him… we just had to do a…
Tribute to The Last Dragon's Johnny Yu
Here at  The Last Dragon Tribute Blog we love to reminisce about this classic film through discussion, quotes, pictures and clips. Here is our tribute to Johnny Yu, the comic relief and unsung hero of The Last Dragon. This Tribute features some of Johnny's  best quotes and clips. First we quote the classic scene then provide a YouTube video or screen capture for your viewing pleasure.
Johnny Yu Describes "The Art of Fighting without Knowing How" to Bruce Leroy:
Leroy: Johnny, what are you doing?
Johnny: Well, you see, Leroy, you know how you're always teaching us to master the art of fighting without fighting? Well, I did you one better. I mastered the art of fighting without knowing how to fight. You see, people… People are afraid of Oriental dudes. Give them a little move, a little scream, and lots of attitude. Check this out.
Johnny Yu demonstrates some misplaced heroics in the infamous "Kiss My Converse" scene:
Sho'nuff (to Leroy):  Yeah, that's right! Bow, sucker! – Yeah!
Beast:  Bow down to your master!
Sho'nuff:  Yeah, coolie, kiss my Converse!
Johnny:  So sorry. Excuse, please.
Beast:  Bow! …. Bow! …. Bow!
Johnny:  Enough! You want to fight? You fight me, you big ugly, smelly-breathed sucker! How about you, string bean, Rick-James-lookin' fool?
Sho'nuff:  Beast, kill him!
She said it was nice to meet me?
Johnny bumps into Laura Charles as she tries to convince Leroy to be her bodyguard.
Laura (to Leroy): I want you to be my bodyguard… Have you listened to a thing I've said?
Leroy: There is much I must do. I am sorry. I cannot.
Johnny: Hey Leroy! Leroy you.. Whoa, excuse me!
Laura: That's okay.
Johnny: Say…you're Laura Charles! Forget it. I will go. Don't…
Laura: That's okay.
Johnny: I don't want to bother you.
Laura: It's okay, I was just leaving.
Johnny: Leaving?
Laura: Please, just give it some thought, okay?
Johnny: Wow! Laura Charles!
Laura: Just let me know if you change your mind.
Leroy:  I said I cannot help you.
Johnny: He can't help you? Of course he can help you. Look at that, he's just hot! He's sick. The boy's… all that yoga.  Hi, my name is Johnny Yu. It's a pleasure to meet you.
Laura: Hi, Johnny, it's nice to meet you.
Johnny: She said it was nice to meet me! Laura Charles said it was nice to meet me! She said it was nice…
How about Something in a Medium Sized Oriental?
Angela comes looking for Leroy to warn him that Eddie Arkadian is out to get him but only finds Johnny:
Angela: Mr. Leroy? Are you in here?
Johnny: Sorry, miss, I didn't mean to scare you that bad.
Angela: That's all right. Is a Mr. Leroy here?
Johnny: No, he's not here, but…how about something in a medium-sized Oriental?
Angela: No, thanks. I'm not Jewish.
Watch The Scene:

Thank you to The Last Dragon super fan and editor of the graphic novel Masternever and the Flow of Death, Majid Afayee for sharing Glen Eaton's short film Duplicate with me. And to Glen Eaton it's good to see that "you still got it got it Johnny!"
If you liked this article you would probably also appreciate: