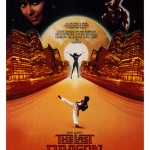 There's nothing like this on stage, screen, radio, TV, or cable, baby! This is an exclusive!

-Eddie Arkadian
Berry Gordy's The Last Dragon Full Movie
Part 1
Part 2
The Last Dragon is not on Netflix, if you like watching commercials you can check it out on Crackle and good luck finding a reliable copy on YouTube. TheLastDragonTribute.com is the only reliable and clearly the best place to watch The Last Dragon online for free!
So if somebody borrowed your The Last Dragon DVD and didn't give it back (that happens all the time) or you actually still have it on VHS but your VCR isn't quite working like it used to and you still need your Bruce Leroy, Sho'nuff, Richie Green and Denise "Vanity" Matthews fix? This is the place for you.
You can buy a new DVD here or you can watch The Last Dragon commercial free right here for free.
Never seen The Last Dragon before? Avoid this look from your friends and Watch this 80's classic today!
The Last Dragon DVD can be hard to find. Buy your very own copy right here. Just click on the picture below to buy it from Amazon.
The Last Dragon Blu-Ray was finally released Aug 2015 it's available on Amazon.

Check The Last Dragon Tribute's Exclusive line of Last Dragon Inspired T-Shirts:
—————————————————————————————