The Last Dragon Photo Gallery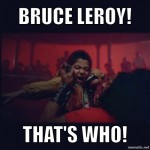 On a daily basis The Last Dragon Tribute aka @thelastglow aka Bruce Leroy's Glow posts unique Last Dragon Memes, Quotes, Sho'nuff, Bruce Leroy, Taimak, Denise Matthews, Leo O'Brien and other cool Last Dragon related images on Instagram, Facebook, Tumblr, etc. Here's a full gallery of the pictures which are also available for viewing on Flickr.
The Largest & Greatest Collection of The Last Dragon Pictures on The Internet!
If Gallery below is not displaying please visit the image collection on The Last Dragon Tribute's Flickr Page or The Last Dragon Tribute's Instagram Page
[AFG_gallery id='1′]
For more Unique and Rare Last Dragon Photos Check out:
TheLastDragonTribute.com is a blog dedicated to preserving the joy of Berry Gordy's 1985 Motown meets Kung Fu cult classic The Last Dragon. We also delve into all things Bruce Lee, Martial Arts and enjoy reminiscing about 70′s,80′s & 90′s pop culture. Follow us from the links below for your daily dose of the Glow!