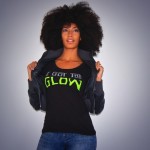 Have you been searching for the Glow since the first time you saw "Bruce" Leroy catch a bullet with his teeth? Have you wanted to call yourself the Shogun of  "fill in the blank" since you first heard Sho'nuff ask "Who's The Master"?  Well Last Dragon Fans we have the T-Shirts for you!
(Heard Enough? BUY  LAST DRAGON T-SHIRTS HERE!)
Our little line of The Last Dragon T-shirts is still small but it is growing by the day. It all started with an innocent Instagram repost of a cool looking "I Got The Glow" T-Shirt with matching Jordan IV "Glows".
Now we've partnered with the innovator behind that shirt & shoe combo to create a whole line of Bruce Leroy inspired "I Got the Glow" Tees including some that actually glow in the dark! And we recently added a Sho'nuff inspired "Harlem Shoguns" T-Shirt to the collection.
Click on any picture or big orange order button to go to our bigcartel shopping cart to browse all the tees and make your order. Most come in Men's and Women's sizes!  It will cost a little extra but we can also do custom colors and sizes just let us know what you want by email: thelastglow@thelastdragontribute.com  or fill out the form at the bottom of the page or here
Besides just having fun interacting with the actors and other great fans of The Last Dragon the goal of TheLastDragonTribute.com has always been to keep the magic of this great movie alive- or as I like to say Keep the Glow Alive! Help us share the Glow and get a "I Got The Glow" or "Harlem Shoguns" T-Shirt for yourself or that friend that can quote every line from this cult classic movie.
Once you buy one please send us a pic of you in the shirt and we'll share it on Facebook, Instagram & Tumblr. Even More styles coming soon! Follow us on your favorite social media platform for updates –we are on pretty much all of them.
Click on any T-Shirt to Check Out our Last Dragon Inspired T-Shirt Shopping Cart.
Men's & Women's Tees Available
Some Last Dragon Fans wearing our Shirts
More Fan Pics will be Posted as we get them!
Want more cool Last Dragon T-Shirts:
TheLastDragonTribute.com is a blog dedicated to preserving the joy of Berry Gordy's 1985 Motown meets Kung Fu cult classic The Last Dragon. We also delve into all things Bruce Lee, Martial Arts and enjoy reminiscing about 70′s,80′s & 90′s pop culture. Follow us from the links below for your daily dose of the Glow!
Customer Orders, Questions, Private Feedback on our Last Dragon Inspired T-Shirts: