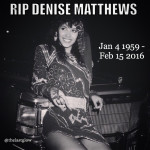 Sadly the rumours are true. Denise Matthews, the evangelist formerly known as Vanity, passed away February 15th at the age of 57.
Since becoming born again in the mid 90's Denise distanced herself from her "Vanity" rockstar persona of the 80's (and the drugs and sex that went with it) but to fans of The Last Dragon she was always seen as the sweet, lovely & charming Laura Charles and one of the most beautiful women of all-time! ‪
She had dealt with almost daily kidney dialysis and 23 surgeries since her kidneys failed due to a 1994 drug overdose. According to family she had recently been diagnosed with  an inflammation of the small intestines known as sclerosing encapsulating peritonitis.
It's a misconception that her 94′ near death experience lead to her finding God. According to an April 2015 interview with AJ Duggar III she actually turned to Jesus about a year prior. Regardless of when she found the church, it ultimately led to her cleaning up her act and changing her life. She toured around the country speaking at churches and would pray for or with anyone she met or who reached her through social media.
TMZ reported that she was in church on the evening before she died and told the congregation she was "ready to go home."

The initial reports started coming in through social media the first we saw was this from @ArtofMusic
Denise Matthews aka Vanity passed away today. She is remembered as an evangelist by friends and family #RIPVanity pic.twitter.com/TMlbIPPTa7

— Music is Life (@ArtOfMusic_) February 15, 2016
Our Facebook page was one of the first places to confirm the talk circulating on social media was true. I spoke with someone close to her before posting this to ensure it was true.
Soon after, Sheila E and TMZ confirmed it as well.
SADDEN my FRIEND IN CHRIST gone 2day. Vanity, Denise Matthews. MISS YOU DEARLY. U ARE IN HIS ARMS NOW, NO Pain pic.twitter.com/UbCWtl8brc

— SheilaEdrummer (@SheilaEdrummer) February 16, 2016
#BREAKING Vanity — Prince Protege Dies at 57 https://t.co/dJvPb3nUdw

— TMZ (@TMZ) February 16, 2016
In one of her last Facebook posts on Feb 10 2016, she explained why she no longer wanted to be known as Vanity:
The Canadian-born actress, model and singer was best known for her roles in the 80's classics The Last Dragon and Action Jackson as well as being Prince's protege and lead singer for his all girls group Vanity 6.
Watch this touching video tribute in memory of Denise Matthews
For more on Denise Matthews check out our in-depth article about The Life of Denise "Vanity" Matthews
Many will remember her as Prince's Protege, "Vanity", but to the fans of The Last Dragon you will always be the sweet, charming lovely lady Laura Charles… say hi to Julius & Leo for us.
RIP Denise Matthews
Craig Sutton | @thelastglow
———————————————————————————-
TheLastDragonTribute.com is a blog dedicated to The Last Dragon fan community with the aim to Keep The Glow alive! It was started by a fan for the fans. Follow us from the links below for your daily dose of the Glow!