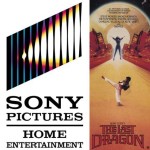 You can finally retire that worn out DVD (or VHS Tape!). Sony Pictures Home Entertainment has informed us that on August 25th in celebration of the 30th Anniversary of the 1985 Kung Fu meets Motown Cult Classic they will release Berry Gordy's The Last Dragon for the first time on Blu-Ray!
**June 15th update**
According to the official Sony press release the film has been fully re-mastered in high definition. New features will include cover art by acclaimed artist Gary Pullin, a newly created look at the making of The Last Dragon which will feature new interviews with cast and crew and the original theatrical trailer. More details on the special features below.
I can't wait to relive moments like this over and over on my couch in crystal clear 1080p
Last Dragon fans, This is an achievement
From what I hear from avid Blu-Ray collectors Sony doesn't often re-release its older catalogue titles so this really is something special. I've been saying its "now or never" for the Blu-Ray but I didn't realize how rare it was for Sony to do something like this. When they didn't announce anything to coincide with The Last Dragon 30th Anniversary Celebration kick off at the Urban Action Showcase in late 2014 or the actual March 22nd 30th Anniversary it was looking more like "never then now". But August 25th, 2015 it is finally happening!
It wouldn't be happening without you
I believe the fans of The Last Dragon, Demetrius Angelo founder and CEO of the Urban Action Showcase & Taimak himself deserve a lot of credit for making this happen.
Demetrius Angelo has worked behind the scenes as well as on the front lines to help give Sony the nudge they needed to give this the go ahead. Not only has he been a huge supporter of The Last Dragon but also of all action films that portray positive images of people of color and women.
Taimak has been holding it down for years hustling all over the country attending screenings and comic books conventions meeting fans and their dream to meet Bruce Leroy come true one "you got the glow" personal autograph at a time.
The Fans have been there all along. Back in November I asked fans that if they wanted a Blu-Ray they should support The Last Dragon 30th Anniversary events. Did they? Sho'nuff! They came out and showed that the Glow and the love for The Last Dragon is stronger than ever!
They also sent heart felt messages like this:
My name is Otis B. Arterberry 3rd. I am a 41 year old man who has been, just like MANY others, a Life long fan of the cult classic movie THE LAST DRAGON! I have bought this move several times over the years. All three of my sons have their own individual copies. I have given this movie as a present for Christmas, Birthdays, and just because many times over. My reasons for doing so is because this movie is a CLASSIC.

This movie had such an impact on me as a child, that I still practice the lessons that I learned from it (the movie) today. I was just wondering why this classic has not been put out on Blu-Ray yet? The Last Dragon is celebrating it's 30 year anniversary, 30 YEARS!!!

I recently went to The Last Dragon 30th anniversary celebration in New York this past November, and it was absolutely awesome! Meeting the cast was amazing! Everyone was so friendly, and genuine. You could tell that they loved what was going on around them as much as all the fans that were there. I mean being able to recreate classic scenes from the movie with them (the actors, and actresses) was one of the highlights of the event. But to actually be able to watch this Iconic film, on the big screen, with the members of the cast, was truly astounding! Sitting in a huge, sold out movie theatre, and everyone is reciting the movie line for line, gave me a feeling that I will not soon forget.

I had no idea that this movie, my favorite movie of all time, had as many people that loved it as much as I do/did. It was an absolutely amazing sight and experience. The cast did a Q and A afterwards and to hear all of the behind the scenes stuff was great! Craig Sutton has done an EXCELLENT JOB keeping The Glow Alive! He runs the Fan tribute to the Last Dragon website, and he helped to bring together all these people to experience one another, and share the love that WE ALL HAVE for this movie.

I would LOVE,LOVE,LOVE to own this movie on Blu-ray, with possibly some extra commentary from the cast. Taimak/ Bruce Leroy is one of the most down to earth, and humble people I have ever had the pleasure of meeting. his character in the movie was, is, and always will be my hero. that character taught me (and many othr people, male and female) that you can do whatever you set your mind to, as long as you believe in yourself. The true master is within, you just have to believe. In closing, I really hope you take the idea of a Bu-ray into consideration. I know there are MANY, MANY fans of this classic that would be very grateful to you for making this dream come true.

Thank You in advance.

Have a great day,

Otis B. Arterberry 3rd
Well Otis you can thank Sony Pictures Home Entertainment for listening. The Last Dragon is one of those films that not everybody gets but the ones that do really, really, I mean really love it and this is going to be really special for them.
I remember a time when I thought I was the only one who was obsessed by this film. During my almost 20 years of sharing  Last Dragon content (since the early days of the internet)  boy have I been proving wrong. I've discovered thousands and thousands of die hard and vocal Last Dragon fans all over the world. If you're a fan and never stumbled upon this blog or our social media content until now you need to know you are not alone!
Official The Last Dragon Facebook Page
Sony has launched the official Last Dragon Facebook page to help promote the movie. They merged the Wikipedia page on Facebook so you might already be one of the current 137,000 plus fans.
Blu-Ray Special Features
**June 15th Update** the Sony press release also highlights that the Blu-Ray will have all new never before seen packaging created by acclaimed artist Gary Pullin.  Special features will include new interviews with cast & crew including Taimak (Bruce Leroy) and Motown mogul Berry Gordy as part of the newly created featurette, "Return of The Dragon", a retrospective look at the making of the movie. There will also be commentary by director Michael Schultz but I am not sure if this is the same from the DVD or not and the original 80's theatrical trailer.
Order The Last Dragon on Blu-Ray Today
The Last Dragon 30th Anniversary Edition Blu-Ray is available for Order Now!
Written by Craig Sutton | @thelastglow
———————————————————————————-
TheLastDragonTribute.com is a blog dedicated to The Last Dragon fan community with the goal of keeping The Glow alive! It was started by a fan for the fans. Follow us from the links below for your daily dose of the Glow!