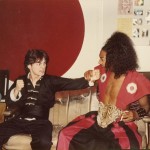 Ever wonder what happened to Johnny Yu from The Last Dragon? Wonder no more. I found him back in April 2012 but was only able to have a quick exchange over YouTube comments at the time. After not hearing from him for the last 20 years that was cool enough. But now that I have really found him; back in 2014 I put him in touch with Adam Lux the guy who organized The D-Lux Entertainment Expo (Detroit March 28-30, 2014) and I met him along with Taimak, Ernie Reyes Jr and many other celebrities there.
We have keep in touch though Facebook and the coolest part of being Facebook friends is the seeing some of the great throwback pictures from the set of The Last Dragon he has shared.
Here's a few of Glen's super rare never before seen Last Dragon Pics
With Berry Gordy and the boys at The Last Dragon Premier
Johnny Yu and Sho'nuff messing around behind the scenes of The Last Dragon
Glen and Berry Gordy
Glen putting on a Martial Arts Demonstration
Taimak making everyone smile at The Last Dragon Premier
Glen Eaton & Ernie Reyes Jr during The Last Dragon Final Fight Scene
Check out Taimak's outfit in this throwback!
Berry Gordy coaching Glen during the infamous Dojo Scene
Recent Photo of Glen "Johnny Yu" Eaton
Thanks for sharing these great photo's Glen.
Watch The Last Dragon Reunion Panel from the D-Lux Expo
TheLastDragonTribute.com is a blog dedicated to preserving the joy of Berry Gordy's 1985 Motown meets Kung Fu cult classic The Last Dragon. We also delve into all things Bruce Lee, Martial Arts and enjoy reminiscing about 70′s,80′s & 90′s pop culture. Follow us from the links below for your daily dose of the Glow!