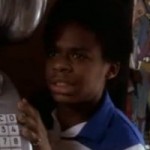 Update October 2012 – the interview below took place just over a year before Leo O'Brien's passing on October 10, 2012. Enjoy this unique and in-depth look into Leo's life it may the most extensive interview of Leo in existence. Please keep Leo's family and friends in your thoughts and prayers. RIP Leo O'Brien.

Where has Leo O'Brien been? We all loved him as Leroy's charismatic Little brother in The Last Dragon, but after a few other small roles in "Rappin" and "New Jack City" he all but disappeared. After such a promising start to his young career no one has heard from the guy since the early 90's. But he's back….
It took him getting shot 3 times  for us to find him again, but he's ok and like the  Shogun of Harlem he's back on the scene.
New York-based writer Illmatical, author of the Martial Arts Fiction Novel Masternever and The Flow of Death, recently caught up with Leo. In this exclusive September 2011 interview Clarke & Leo discuss the recent shooting, how he got the role in The Last Dragon, Taimak, Vanity, Berry Gordy, Mario Van Peebles, Harlem, his reunion with his Last Dragon brother, where he's been and what he's is up to now. This interview is part of an ongoing series of investigative articles from Clarke that explores The Last Dragon and its cultural impact.
7th Heaven and the Harlem Blues
by guest writer Illmatical
Uptown is almost over. Did you hear that young girl standing on the corner? Yelling and screaming "HARLEM IS NO WHERE!" Once a cultural icon, Harlem has been the victim of gentrification, for several years. Truth be told, the essence of the entire city is changing. As a native New Yorker, I occasionally get depressed. The city I grew up loving is running on fumes. It's dying. A shadow of what it once was.
I needed to get out of this funk and get back in the New York state of mind. I headed up to 125th street. A God saw me moping, he stopped me saying "Peace." I shared my dilemma. I expressed my concerns. When ever he got a case of the Harlem Blues, he'd remedy this with a slice of pizza covered with bean sprouts. His advice was readily accepted "Just directa yo feetza, to Daddy Green's pizza!"
So I did.
Right there in Harlem, I found Leo O'Brien, the guy you know as Richie. Still slinging pies in the hood.
He talked, while I ate my pizza with bean sprouts. We spoke about your favorite film, his involvement, the aftermath, the genius of Berry Gordy, what he learned from Laura Charles, Harlem and life after getting shot — again.
"THE LAST DRAGON was so phenomenal, I didn't know, I was fourteen. I believe Berry Gordy did it, but nobody knew it was going to do what it did" said Leo. I hadn't reflected on this before, but the predominately Black cast and production was significant within itself. "It spawned movies like DEAD PRESIDENTS and MENACE II SOCIETY — it was a door opening for other Black people to do their thing" explained Leo.
Years before breaking into 7th Heaven, Leo was establishing himself in the world of music. His older brother had the glow. His name was Gee and he was the master of the microphone, a member of the Sugar Hill Gang. This no doubt had an influence on young Leo, who put his rap skills on display during a 1980 Underoos commercial. "Yeah, it was a big joke at school" explained Leo.
Leo O'Brien in 1980 Underoos Commercial:

Truth be told, it was his affiliation with Hip Hop that allowed Leo to be in THE LAST DRAGON. "I was the DJ for the Sugar Hill gang, My brother is Master Gee.
We were touring. I was on a news show — 20/20" said Leo.
This "news show" was no small thing. The segment RAPPING TO THE BEAT, which aired in 1981 was the first nationally televised piece of journalism on Rap. While watching you'll see a young and charismatic Leo rapping, while sitting on a car with friends.
That appearance was noticed and he would later be invited to an audition,
for THE LAST DRAGON. "I went on about four or five auditions. I had a blessing. I had something that other people didn't have, and guys would see me walk in, and they would be like 'Damn! This motherf****er!' They already knew the deal" said Leo.
He spoke more about the audition experience and then meeting Mr. Motown.
"Over twenty five hundred guys… as it got down to the third and fourth audition, I noticed it was less and less people. It was either the fourth or the fifth, I went into the audition, the call back and there was this cat sitting there, with a really expensive suit on, he's got this young Japanese chick with hair past her ass, she has her leg on him, I don't know who he is. I'm doing my stuff, Michael Schultz (Director) was there. We did it a couple of times and the guy started talking shit. Like, 'Put the script down!' We improv and they film it."
The guy talking shit was none other than Berry Gordy.
"I never left that office. They told everyone it was a rap and they found everything they were looking for" said Leo.
I ordered another slice and Leo talked about the brilliance of Gordy and their relationship. "Berry Gordy was like a father to me. While I was filming, I was at the the Carlye (Hotel) with him. I learned so many things from him. To sum it up in one word, he's phenomenal. He's super intelligent, he's a genius. He's got a good heart, he's compassionate and he's not full of shit. Everyone has there things that they do, or they did this to this person, but you can't say too many bad things about the guy. He's helped so many people, he's touched so many lives."
When I met up with Louis Venosta (original writer) back in 2006, he would help me understand some of the influence Gordy had on directing the movie. While visiting the set, he shared an experience in which Gordy halted the "Kiss my converse scene" and gave the actors orders. Leo helped me understand things better saying "Michael Shultz is a great director, I'm not taking nothing from him, but Berry Gordy directed a lot of that movie. Scenes were changed — a lot of those lines came out of Gordy's head. "
In retrospect, Gordy's ability to successfully fuse fantasy fiction with pop music hasn't been accomplished since.
"It wasn't an accident, Mr. Gordy knew what he was doing. They (Motown) maximized the potential of that film. They're killing them on the DVDs. It's a classic." said Leo.
Overall his time on set was a pleasurable one. He explained "It was more of a family, going to work was like going to see your family."
He then spoke of his siblings, Taimak and Vanity.
Speaking of Taimak, who reached to Leo after he was shot, he said "He's like a brother. He is my big brother! We're working on a film right now. The film that he wrote." The film he is speaking of is Taimak's independent project entitled "I've Seen Things".
He would then share his recollection of getting schooled by his older sister on set. She didn't teach him any moves, but imparted more regarding life. Speaking of Vanity he said "She was interesting and she was a teacher — she enlightened me on a lot of shit, that people my age did not know, show business, about broads, life and how people think. "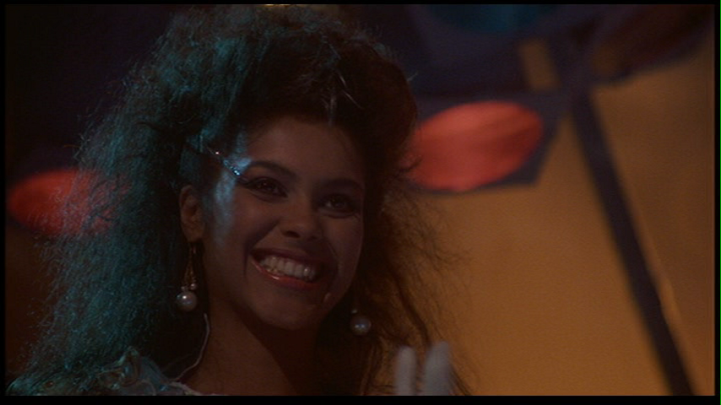 THE LAST DRAGON opened in Westwood, Los Angeles. Leo reflected on the opening and almost f***ing up Rappin Hood's movie.
"I was actually filming RAPPIN when the premier came and I left the scene of that and went to the premier. Berry Gordy was like 'You have to get a hair cut.' I went back (set of RAPPIN) and they were like 'You f****ed up your hair!'"
Leo reflected on the reception of the film and attention afterwards. "It was pandemonium. It's cool in the beginning. When its genuine its good, but when its too phony or an anterior motive, its kinda corny, but I appreciate everybody that appreciates me."
After the success of THE LAST DRAGON, Leo found himself visiting the Gordy home annually, staying a few months during the summer. He spoke on pitching his rap album to Gordy and how he influenced Gordy to work on the film CLASS ACT, which featured Kid 'n Play.
"The only bullshit movie he ever did was CLASS ACT and that was because of me. I use to stay out there every summer — 85, 86, 87, 88, 89 — that's my guy!"
During one of those summers, Leo showed up at the Gordy residence with his Rap album. "I went there to bring my album to him. They weren't ready for it at the time,
he was like 'Hang out and chill' and I ended up staying for a month or two.
I started writing — I had a yellow legal pad, I had one, it got to two pads, people
started asking 'What are you doing?' I told them 'I'm writing a movie!' By the time it was over I had fifteen pads" explained Leo.
Leo stepped to Gordy will all fifteen pads. He described the scene in Gordy's pool house. "He was really interested, they day I presented it to him, he was in the pool house getting a hair cut and after I got to the third page, he was like 'Hey man, do you really think I have all this time to listen to that shit? If you didn't know me, you'd have about five minutes to tell me what this is about. I'm going to give you eight!'"
Leo's writing interested Gordy "He loved it. The next day, I was in his office in the Motown building" said Leo.
When Motown started moving in a different direction, Leo who was fifteen at the time, lost interest and walked away from the project. Gordy who was again motivated to make a film, decided to move forward with CLASS ACT. "They (Motown) were geared up to do a film, Kid 'n Play was hot at the time…He (Gordy) never blamed me directly, but I'm pretty sure he's probably like 'That stupid mother f****er!'" said Leo.
At times, Leo reflects on THE LAST DRAGON and that period in his life.
"Kids today, its so crazy to me, kids that's like five years old, ten years old, that's like their favorite joint, cuz of their parents. It was their favorite joint. That movie was very monumental and I am so blessed to be apart of something so iconic." said Leo.
For many of us who remember 1985, THE LAST DRAGON is important because it captures a forgotten New York City. The film was also released in a pivotal year, when the city would take a turn for the worse. Speaking of New York City and seeing the inception of the crack epidemic, Leo said "It has always been dangerous. When crack first came out, a lot of people were doing it. You start hearing things. I can think of so many people, they were good people and that just really destroyed them."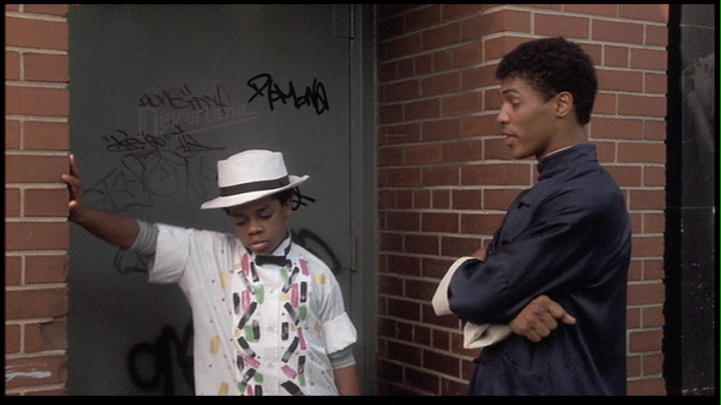 While finishing up my pizza, I talked to Leo about a conversation I had with Ron Van Clief, who was the fight choreographer for THE LAST  DRAGON.
Van Clief spoke highly of the film and the fact that the production something Disney could have made. Leo gave his perspective saying "It was a little fairy tallish. In the sense of why New York City really was, it was still hood, but it was middle class hood. Come on, he owned a pizza shop, his son owned a Kung Fu school. Come on, you don't know too many Black motherf****ers who live like that. Right or wrong?"
We reflected on THE LAST DRAGON movie scene, which referenced martial arts movies at The Deuce aka Times Square. Leo spoke on what he remembered saying "It was off the hook. You was definitely going to see a fight. People smoking reefer, midgets, dogs. Me and my man took a dog to The Deuce. We and saw three Karate flicks for $2.50 cent. The canine was in the theater with us. The Deuce, that was a big melting pot for all of the boroughs. Everybody went to The Deuce, it's not like that any more."
Most of us haven't seen Leo since his cameo in NEW JACK CITY and he explained how he happened to get that part "I was in RAPPIN with Mario Van Peebles. It just so happened that he was directing the movie . I was passing by on Lenox ave. I saw the trailers. I saw a PA and said 'What movie are they making?' They were taking the CMB (Cash Money Brothers) jackets across on a rack."
After learning that Mario Van Peebles was the director, Leo advised the PA to call in and inform Mario that he was outside. Rappin Hood didn't hold any grudges about Leo's haircut years earlier. Explaining what happened afterwards he said "The rest is history. They were shooting that scene (scene on the porch) that day. The kids were mad because the lines were broke up really throughout most of them and they consolidated to give me that spiel."
While spending time with Leo, it's easy to understand why he was chosen for the part. He's real. He has a quality that can't be imitated. While taking a walk with the street veteran. I briefly felt like Bruce Leroy. I'm walking through Harlem with my young hip brother. Respected by everyone in the hood, giving firm daps. Leo has the essence of Harlem. Richie, is just an small extension of who he is. His conscientiousness, his self confidence, it articulated a statement to me and anyone who may have seen us walking together "If any one ask, you ain't my brother!"
With Leo's strong character and personality, I asked why he wasn't more visible.
"Had I applied myself they way that I apply myself before I done that film, I probably would have made more movies, but I got caught up in the hype. Life happens, but I don't have any regrets. Everything that I went through in my life made me the man that I am today. I could not have read it in a book or a motherf****er could not have told me it. The good shit, the bad shit, the mediocre shit, the ups and downs." said Leo.
Leo then reflected seriously on New York City and how the mood has changed.
Speaking about 1985, in Harlem, he said "It was a glorious time. Things were good. There was so much money out here, so much good vibrations. People were happy, it was a happy time. There was bad shit going on, but people were happy. The Rooftop was rocking, Latin Quarters — it was a good time."
Speaking specifically about gentrification, he said "They're moving us out. There are good and bad people in every walk of life, race, creed, occupation. I don't hate the cops — I don't f**k with them, but I don't hate them. I don't like what's going on. No one is doing it to you, so why are you doing it to us. Because it's here? Because you can? Some of these people don't have any place to go.
Creating more bullshit, more stealing, more homelessness, more people doing things that they would not normally do if there back wasn't against the wall."
Occasionally while we conversed, Leo winced, mentioning that he is still in pain.
"This negative situation that happened, I turn it into a positive. It got me and Taimak together. It was always my goal to get back on the other end of the camera. In addition, he's working with his brother Master Gee on a joint venture, their entertainment company ADONIS ENTERPRISES will focus on developing talent and bring forth film projects.
In retrospect, Leo's shooting may have been a mixed blessing. Anything that reunites Leo and Taimak on the screen, would definitely help fill a void for LAST DRAGON fans who still wonder about what happened to Richie and Bruce Leroy. Now, all we need is for Denise Matthews to stop the pulpit-ing.
I finished up my slice — my slice at Daddy Green's was knowledge. I got to the doorway, and as I left, we locked eyes, he started to say something — I cut him off and said "I KNOW, I AIN'T YOUR BROTHER!" ~ Illmatical
A special thank you to Clarke for tracking down Leo, conducting the interview & contributing the article to The Last Dragon Tribute so it could be shared with the Fans of the Greatest Martial Arts Meets Motown Movie ever!! If you are a fan The Last Dragon you would probably also enjoy his new Martial Arts Novel check it out: "Masternever and the Flow of Death". Also check his interview with the Hip-Hop Artist Bruce Leroy & Glen Eaton the actor who played Johnny Yu in The Last Dragon
————————————————————
TheLastDragonTribute.com is a blog dedicated to The Last Dragon fan community with the goal of keeping The Glow alive! It was started by a fan for the fans. Follow us from the links below for your daily dose of the Glow!