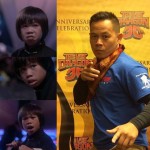 You know Ernie Reyes Jr. for his incredible fight scenes in Teenage Mutant Ninja Turtles, Surf Ninjas, The Rundown and The Last Dragon but right now he is facing the biggest fight of his life and he needs our love and support.
He is suffering from kidney failure caused by undiagnosed high blood pressure and his currently undergoing dialysis treatment 3 times per week for 4 hours a day while waiting for a kidney transplant.  Please share the news to help Ernie find a donor.
Potential Donor Group
Ernie's Reyes Jr Potential Kidney Donors Group
Ernie's friend's and family have created a Facebook group to create a list of potential kidney donors! His blood type is O positive. Please Share to help spread the word!
Kidney Transplant Fund
Ernie Reyes Jr. Official Kidney Transplant Fund
You can also support his kidney transplant fund by donating to the gofundme project his sister Destiny started.
I was shocked to hear this news and was hoping it was a hoax but a quick check of Ernie's Twitter account confirmed it was true.
Much love to my sister @destikneee for starting a kidney transplant fund for me. I love you girl! http://t.co/8B56ZSkFQA

— Ernie Reyes Jr. (@erniereyesjr) June 5, 2015

I've hung out with Ernie several times at Last Dragon reunion events and I can say you will never meet a more humble, down to earth and gracious celebrity. I am not surprised at all to see the out pouring of love and support, but this is just the beginning. The road to finding a kidney donor is not an easy one so please help anyway you can- share, donate, even just passing few kind words to Ernie through his twitter account can help.
Ernie, 42, has been entertaining us since he made his movie debut at 12 in The Last Dragon. He played one of Bruce Leroy's students and little brother to Johnny Yu. The scene when he unleashes his tween fury on one of Sho'nuff's goons then goes on to beat down another thug played by his own father is one of the most memorable in the film.
Ernie Reyes Jr Classic Fight Scene from The Last Dragon
His Last Dragon co-star Taimak (Bruce Leroy) showed his support on Facebook:
Here's all the info about Ernie's situation straight his Sister:
Thank you for taking a moment to see why and how you can make a difference. My brother, Ernie Reyes Jr., was recently in the ICU (Intensive Care Unit)  fighting for his life  suffering from kidney failure. Ernie is currently undergoing dialysis treatment 3 times per week for 4 hours a day while waiting for a kidney transplant. This is a very challenging time not only for Ernie Jr.'s immediate family, but a challenging time for our family as well.
My  father, Ernie Reyes Sr. (Founder of Ernie Reyes West Coast World Martial Arts), is 100% committed to helping Ernie however he can.
You may know or remember Ernie as a child in Last Dragon and Sidekicks, or as that teenager from Teenage Mutant Ninja Turtles. You may also remember him from  The Rundown with "The Rock" or even his most recent star appearance on NCIS: Los Angeles. My brother has spent his entire childhood and adult life fighting in films and television, but now his battle has gone from the screen to reality, fighting for his life.
Regardless of where you have seen or heard of Ernie Reyes Jr., he has impacted peoples' lives all over the world through his extraordinary performances in television and film.  Please be aware that he needs support during this time of need and recovery of his  life.
Thank you for your support,
Destiny Reyes
Who Can Be a Kidney Donor
Donors need to be between the ages of 18 and early 70s and can include parents, children, siblings, other relatives, and friends. An ideal donor should have a genuine interest in donating and a compatible blood type with the recipient. 
Ernie's blood type is 0 positive. Potential Donors are encouraged join Ernie's Potential Donor List on Facebook: www.facebook.com/groups/564934446978203/ 
Donors should be in good general health. 
Frequently Asked Questions for Kidney Donors
Q & A for Kidney Donors | University of Maryland Medical Center 
Ernie Reyes Jr. Highlight Reel!
Featuring Fight Scenes from Red Sonja, The Last Dragon, Ninja Turtles II, Surf Ninjas & The Rundown set to some awesome 80's training montage music.
 Please Share and Support Ernie!
Written by Craig Sutton | @thelastglow
———————————————————————————-