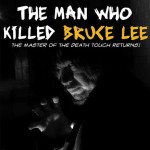 As mentioned in a previous article about the conspiracies surrounding the deaths of Bruce & Brandon Lee there are many opinions about how Bruce Lee really died. In this article guest writer Clarke Illmatical examines the history of "The Death Touch" and poses the question:
Was Bruce Lee killed by the nerve strike technique known as DIM MAK?
More Guest Posts by Clarke Illmatical on The Last Dragon Tribute Blog:

TheLastDragonTribute.com is a blog dedicated to preserving the joy of Berry Gordy's 1985 Motown meets Kung Fu cult classic The Last Dragon. We also delve into all things Bruce Lee, Martial Arts and enjoy reminiscing about 70′s,80′s & 90′s pop culture. Follow us from the links below for your daily dose of the Glow!