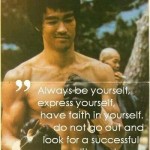 Today is the 41st Anniversary of Bruce Lee's Death. His influence on Martial Arts, Film and Athletics in general is well documented. Bruce Lee was also quite an enlightened thinker he graduated with a degree in philosophy from the University of Washington. Evidence of his deep thoughts can be found all over the internet in the form of endless quotes attributed to him.  He did actually say or write most of these things unlike a lot of the celebrity quotes you see on Instagram but not all of them are entirely original thoughts most are some version of old Taoist or Buddhist teachings. What makes a Bruce Lee Quote so special is the unique perspective and practical twist he puts on this ancient nuggets of wisdom.
To honor his legacy I've put together a list of Bruce Lee's greatest quotes. To make it interesting and more unique I've found or created cool images of the quotes all ready for you to share on Instagram, Twitter, Facebook, Pinterest etc Feel free to tag us: @thelastglow when you do.
20 Instagram Worthy Images of Bruce Lee's Greatest Quotes
1. " There is no challenge in breaking a board. Boards don't hit back."
2. "Notice that the stiffest tree is most easily cracked, while the bamboo or willow survives by bending with the wind."
3. "A teacher is never a giver of truth – he is a guide, a pointer to the truth that each student must find for himself. A good teacher is merely a catalyst"
4. "Don't think, feel! It is like a finger pointing away to the moon. Don't concentrate on the finger or you will miss all that heavenly glory"
5. "A goal is not always meant to be reached; it often serves simply as something to aim for"
6. "You know what I want to think of myself? As a human being. Because, I mean I don't want to sound like ask Confucius, sayyyyyy–(joking) but under the sky, under the heaven, man, there is but one family. It just so happens that people are different."
7. "To hell with circumstances; I create opportunities."
8. "I'm not in this world to live up to your expectations and you're not in this world to live up to mine."
9. "The key to immortality is first living a life worth remembering."
10. "Because of styles people are separated. Research your own experience, absorb what is useful, reject what is useless, add what is essentially your own."
11. "Empty your mind. Be Formless. Shapeless. Like Water. You can put water into a cup. It becomes the cup. You put water into a bottle. It becomes the bottle. You put water into a teapot. It becomes the teapot. Water can flow or it can crash. Be Water, My Friend."
12. "A wise man can learn more from a foolish question than a fool can learn from a wise answer."
13. "Obey the principles without being bound by them."
14. "Simplicity is the key to brilliance."
15. "Do not pray for an easy life, pray for the strength to endure a difficult one."
16. "There's only one basic principle of self-defense- you must apply the most effective weapon, as soon as possible, to the most vulnerable target."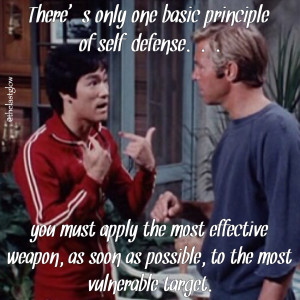 17. "Always be yourself, express yourself, have faith in yourself. Do not go out and look for a successful personality and duplicate it."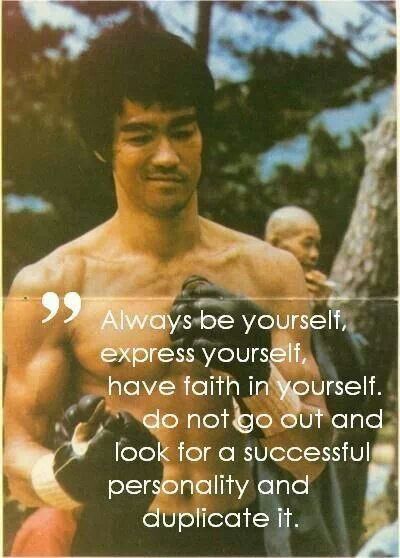 18. "Through my own observations. I am convinced that an absolutely honest and direct inquiry into oneself will lead to understanding."
19. "If you want to learn to swim you have to throw yourself in the water."
20. It's not what you give it's how you give it.
The Top 5 Audio Bruce Lee Quotes Ever Recorded
Video includes audio & visual of the following famous Bruce Lee Quotes: 1. Have Faith in Yourself… 2. Don't Think Feel… 3. Styles tend to, not only separate man… 4. I think of myself as a human being… 5. Be Like Water my Friend…
Which Bruce Lee Quote is your favorite? Why? How many good ones did I miss?
TheLastDragonTribute.com is a blog dedicated to preserving the joy of Berry Gordy's 1985 Motown meets Kung Fu cult classic The Last Dragon. We also delve into all things Bruce Lee, Martial Arts and enjoy reminiscing about 70′s,80′s & 90′s pop culture. Follow us from the links below for your daily dose of the Glow!