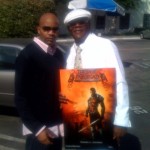 Is this what it appears to be? Dallas Jackson & Samuel L Jackson holding a copy of The Last Dragon Remake Movie Poster?
Not sure how this one slipped by us for over a year, but we recently noticed that Dallas Jackson, writer and producer of The Last Dragon remake, has been using this as his Facebook Cover Photo. The pic was uploaded to Dallas' account March 18, 2012. It is definitely him, that is definitely Sam Jackson but what's up with that poster?
Sam Jackson, Chris Brown, Rihanna, The RZA & The Last Dragon Remake
You'll notice at the bottom of the poster are the names Samuel L.  Jackson, Chris Brown and the RZA. The RZA is slated to co-produce, Sam Jackson has been linked to the Sho'nuff role since 2008 and if you follow our remake update page you'll know that originally Dallas Jackson wanted Chris Brown and Rihanna to star as Bruce Leroy and Laura Charles. Gotta admit it's still pretty shocking to see Chris' name on the poster.
Does this mean The Last Dragon Remake is Happening?
Ultimately whether this remake happens or not will be up to fans. If the fans want it enough and show they will support it Sony would crazy not to green light it.  I read that they were thinking of coinciding the release of the reboot with Motown's 50th anniversary next year (2014) but who knows how true that rumor is.
The poster was probably designed to create some buzz (which we are happy to help with) so I wouldn't read to much into it but it does beg the questions -is this just a fan made poster? What's with the dude holding the sword? is that supposed to Sam as Sho'nuff? are they serious about Chris Brown as Leroy Green?
What do you think about this Poster? Please comment below and share/like on Social Media.
Follow our Last Dragon Remake News, Facebook or Twitter pages for the latest most trustworthy updates on The Last Dragon Remake.

—————————————————————————————