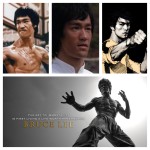 July 20, 1973, Actor, Icon, Philosopher, Teacher, Martial Artist and Hong Kong Cha-Cha Champion Bruce Lee died. He was only 32 years old but what a 32 years he lived.  In such a short time he managed to revolutionize pop culture, film, philosophy, music, the arts and physical fitness. Since his passing, he has become recognized as the king of martial arts film and the grandfather of MMA. He did it not only with his martial arts skill and physical prowess but also as a writer, choreographer, director, and revolutionary thinker. His message of self-discovery, truthfully expressing yourself and functionality over blind dedication to tradition still resonates as strongly today as it did in the 60's and 70's.
Bruce Lee's Influence on the World
His influence transcends martial arts, film, race, and culture. Many musicians, directors, athletes and actors all over the world credit Bruce Lee as one of their biggest influences. Athletes, fighters, and bodybuilders admire him for his speed strength and skill and philosophers and artist admire him for the way he effectively brought together eastern and western ideologies and truthfully expressed himself in every aspect of his life. He is credited with the mainstream popularity of martial arts and martial arts movies.
Bruce Lee's Impact on African American Culture
The cult-like popularity of the 1985 Motown meets kung fu classic The Last Dragon attests to the influence Bruce Lee had on Black culture. He was Leroy Green's hero, my hero and maybe yours too. In a time where very few minorities were cast in leading roles Bruce Lee exploded on the scene and wasn't going to be pushed around by anybody. He stood for the underdog, the little guy, and the truth that the establishment never wants to accept. This message resonates with the revolutionary voice inside many of us but it especially spoke to minorities in the 70's who were hungry for a role model that spoke to their struggle.  Many rappers like the LL Cool J and Wu-Tang's RZA name Bruce Lee as a major influence on their careers.
Inspirational Quotes by Bruce Lee
To honor him on the anniversary of his death I would like to share some of Bruce Lee's most inspirational/memorable quotes:
"Absorb what is useful, Discard what is not, Add what is uniquely your own."

"Empty your mind. Be Formless. Shapeless. Like Water. You can put water into a cup. It becomes the cup. You put water into a bottle. It becomes the bottle. You put water into a teapot. It becomes the teapot. Water can flow or it can crash. Be Water, My Friend."

"Water is the softest substance in the world, but yet it can penetrate the hardest rock or anything — granite, you name it. Water is also insubstantial; by that I mean you cannot grasp hold of it, you cannot punch it and hurt it. So every Gung Fu man is trying to do that; to be soft like water, and flexible and adapt itself to the opponent."

"The Key to immortality is first living a life worth remembering…"
If the key to immortality is living a life worth remembering then I would say 40 years later Bruce Lee lives on….
How Bruce Lee Changed the World
More Articles About Bruce Lee on this site:

Written by Craig Sutton | @thelastglow
—————————————————————————————————-
TheLastDragonTribute.com is a blog dedicated to preserving the joy of Berry Gordy's 1985 Motown meets Kung Fu cult classic The Last Dragon. We also delve into all things Bruce Lee, Martial Arts and enjoy reminiscing about 70′s,80′s & 90′s pop culture. Follow us from the links below for your daily dose of the Glow!