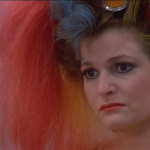 Ever wonder what happened to the actress who played Angela Viracco, Eddie Arkadian's wanna be rock-star, Cyndi Lauper looking girlfriend, from Kew Gardens in The Last Dragon?
Test Drive
by Faith Prince as Angela Viracco (The Last Dragon, 1985)
Whatever Happened to Faith Prince
Looks like walking out on Eddie Arkadian back in 85 has worked out pretty well. Faith is now a well respected and accomplished actress, singer, teacher and Broadway performer. She was born August 6th 1957 in Augusta Georgia and raised in Lynchburg, Virginia and studied theater at the Cincinnati Conservatory of Music.
After The Last Dragon Faith's seen success in film and TV but the stage is where she's made the biggest splash. She is one of Broadway's best loved leading ladies appearing in over a dozen shows. In 1992, she won a Tony for her performance in Guys & Dolls and has received 3 other Tony nominations for her excellence in Broadway theater. The Last Dragon was Faith's first movie but she had already appeared on the early 80's TV shows Remington Steel and Loving. She most recently starred has "Miss Hannigan" in the revival of Annie. Other Broadway credits include:  A Catered Affair, The Little Mermaid (Ursula), and Bells Are Ringing.  She also starred in the national tour of Elton John's Billy Elliott. See full stage acting credits below.
Faith currently recurs on Lifetime's Drop Dead Diva and on ABC Family's Melissa & Joey. She now resides in Sacramento, California with her son and husband, trumpeter, Larry Lunetta.  Her latest album, Total Faith, was recently released, and her album A Leap of Faith is available on DRG Records.
Faith Prince "Performs Poor Unfortunate Souls" from "The Little Mermaid" on the "View"
Glen Eaton's memories of Faith Prince
Her Last Dragon co-star Glen Eaton (Johnny Yu) once told me that he knew Faith would go far as an actress. He mentioned she was a very professional and committed to her craft. Off camera she was very serious and focused but the moment the lights came on she immediately transformed into the giggling bubbly persona of Angela Viracco. It was clear she had acting chops when she ditched the ditz routine to stand up to Eddie and deliverer her powerful "also from Kew Gardens" lines.
Angela Walks Out on Eddie
Eddie Arkadian: Where you gonna go Angie? Without me your nothing, without that outfit your just another no talent dental hygiene school drop out from Kew Gardens getting by… on her tits
Angela: and in the end Eddie you know what? You're nothing but a misguided midget asshole with dreams of ruling the world… yeah also from Kew Gardens… and also getting by on my tits…
Songs Performed by Faith Prince in The Last Dragon
Test Drive – "You wanna Test drive? oooh! oooh!"
Dirty Books – "I found em! I found em!" -yes she is saying 'dirty books' not 'dirty drawers' or whatever you thought
Faith Prince's Acting Credits Before and After The Last Dragon
Well those elocution lessons have really paid off look at this long list of credits! If only Eddie could see his ex-girlfriend now!
Stage:
Direct from Broadway (2014)
Annie (2013-2014)
Billy Elliot (Second National Tour) (2010-2011)
The Little Mermaid (2009)
A Catered Affair (2008)
A Man of No Importance (2002)
Bells Are Ringing (2001 revival)
Noises Off (2001 revival)
James Joyce's The Dead (2000)
Little Me (1998 revival)
Picture Perfect (1997)
The King and I (1996 revival)
What's Wrong with This Picture? (1994)
Guys and Dolls (1992 revival)
Nick & Nora (1991)
Falsettoland (1990)
Jerome Robbins' Broadway (1989)
TV:
Melissa & Joey (2013-2014)
Drop Dead Diva (2009-2013)
Happy Endings (2012)
A Gifted Man (2011)
Tinker Bell and the Great Fairy Rescue (Video 2010)
CSI: Crime Scene Investigation (2010)
 Ugly Betty (2009)
Medium (2009)
Mad Men (2009)
Grey's Anatomy (2006)
Huff (2004-2006)
The PTA (2006)
Monk (2005)
Sabrina, the Teenage Witch (2003)
Spin City (1997-2000)
Welcome to New York (2000)
1996 Frasier (1996)
1995 High Society (1995)
Law & Order (1990-1993)

Miss Farrell / Tracy Stark

Encyclopedia (1988)
Remington Steele (1983)
Loving (1982)
Movies:
Material Girls (2006)
Sweet Potato Queens (2003)
It Had to be You (2000)
A Season for Miracles (1999)
Picture Perfect (1997)
Big Bully (1996)
Friends at Last (1995)
My Father the Hero (1994)
Dave (1993)
The Last Dragon (1985)
Faith Prince Interview Talks Broadway credits, Nathan Lane & "Annie"
For More Where are They Now info on the Cast of The Last Dragon visit  ~> Whatever Happened to The Cast of The Last Dragon  includes updates on: Taimak, Julius Carry, Leo O'Brien, Denise "Vanity" Matthews, Glen Eaton and Ernie Reyes Jr.
The Nov 8th  2014 Last Dragon 30th Anniversary Celebration was a huge success!!!
TheLastDragonTribute.com is a blog dedicated to preserving the joy of Berry Gordy's 1985 Motown meets Kung Fu cult classic The Last Dragon. We also delve into all things Bruce Lee, Martial Arts and enjoy reminiscing about 70′s,80′s & 90′s pop culture. Follow us from the links below for your daily dose of the Glow!