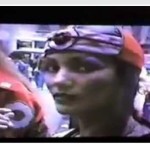 Thank you to Hector Martinez for sharing these amazing never before seen videos from his personal collection of The Last Dragon memorabilia. Hector's Berry Gordy's The Last Dragon collection is easily the largest in the world and these video's are some of the rarest and coolest pieces of 80's nostalgia he has.
The videos were given to him by his friend, Martial Arts Legend & Actor Ron Van Clief  aka The Black Dragon, who worked on The Last Dragon as fight coordinator and stunt man. Van Clief was one of Eddie Arkadian's hired thugs fighting Leroy in the Final 7th Heaven fight scene. Footage was shot during the 1984 filming of The Last Dragon outside of "Daddy Green's Pizza" on 182 Avenue C  between 11th Street and 12th Street in New York City. "Daddy Green's Pizza" was actually Village East Pizzeria at the time then later Villagio's Pizza.
Sho'nuff and Crunch taking a break outside Daddy Green's
 Two of Sho's Girls on set of The Last Dragon
Cyclone & Sho's Girls on the Street Outside Daddy Green's
 Taimak on Set of The Last Dragon walking out of Daddy Green's
Cyclone messing around on set
The Last Dragon 30th Anniversary Celebration!
If you have ever wondered what has come of the cast of The Last Dragon or just enjoyed that walk down memory lane then you should join us for The Last Dragon 30th Anniversary Celebration at the Urban Action Showcase & Expo November 8,2014 in NYC. On top of a screening of The Last Dragon at the Times Square AMC stars from this cult classic will be on hand for Q&A. Cast in attendance will include: Taimak (Leroy), Glen Eaton (Johnny Yu), Ron Van Clief, and even some of Sho'nuff's Henchmen!
 For VIP Tickets and info visit:  www.urbanactionshowcase.com
TheLastDragonTribute.com is a blog dedicated to preserving the joy of Berry Gordy's 1985 Motown meets Kung Fu cult classic The Last Dragon. We also delve into all things Bruce Lee, Martial Arts and enjoy reminiscing about 70′s,80′s & 90′s pop culture. Follow us from the links below for your daily dose of the Glow!