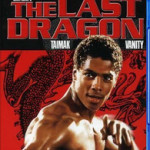 Sony Pictures owns the rights to The Last Dragon. Unbelievably they have never released a Blu-Ray version of the internationally popular 80's cult hit. I have always wondered if maybe they don't know how many people not only like but love this movie or perhaps they do and they have just been waiting for the right time? Could the coming of The Last Dragon 30th Anniversary mean Sony will finally release the long awaited Last Dragon Blu-Ray?
**June 2015 Update**
The Answer to the question I posed back in November 2014 is YES!!!
Pre-Order from Amazon here!
***
On March 22, 2015 The Last Dragon will turn 30. On Saturday November 8, 2014 The 2nd Annual Urban Action Showcase & Expo (an Action Film Festival in New York) will be honoring this momentous occasion with The Last Dragon 30th Anniversary Celebration. It will be the Largest Gathering of Last Dragon Cast & Fans Ever. Fans have an amazing opportunity to prove to Sony that releasing a 30th Anniversary Edition Last Dragon Blu-Ray would be a profitable venture. Last Dragon fans we need you to come out and support this event. We need to show the folks at SONY how how much we love and support this film.
"In the movie collecting world horror always does well. Studios and distribution companies make a lot of money from collectors when it comes to the horror genre. Small companies like Shout factory have marketed horror cult films for blu-ray and they have been very successful thus far. I know martial arts isn't as big as a genre but a cult film like The Last Dragon has more to offer than just a typical black film. It's cemented in the 80s which gives the film it's charm. Within that lies a great soundtrack and early performances by big stars today. I am certain this will be a big hit amongst movie collectors and general fans of the film around the world."

"Its a cult classic that deserves a special edition release! I was hoping Sony will announce something to coincide with the anniversary. The only way I see this happening is if they truly move forward with the remake. Then they would put the film out."

~Majid Afayee, avid retro blu-ray collector & one of the biggest baddest Last Dragon fans around this town
Think you are the only one who loves The Last Dragon? Wrong!
People don't just love this movie they are obsessed with it. On a daily basis I get messages from fans who find my Last Dragon Instagram account or Facebook Fanpage and they are ecstatic to see that there is social media dedicated entirely to The Last Dragon. Almost every one of them tells me about how they have watched the movie hundreds of times or how they can quote every line. Young and old from all over the world its the same story.
"Whenever I watch "The Last Dragon", a sense of nostalgia takes over. I remember the first time watching it around the age of 9 or 10 with my dad, when you RENTED the old "top-loading" VHS player, and had to set your CRT television to channel 3. This was my introduction to the world of martial arts, became a huge fan of the film genre, and was my kick start for having enrolled in martial arts for 10 years.

From the opening sequence in the movie (when Leroy is in his final training; dodging, chopping, and finally catching an arrow), I was in awe, and was hooked. Julius Carry's performance is so favorably over the top as the antagonist "Sho'Nuff", almost as if a comic book villain was lifted straight from the pages of a comic book. The Last Dragon may not have been a blockbuster, but it has gained quite a following, enough to have reached "cult" status, and I believe is very deserving of a re-release in Blu-Ray format."
~Shane Straub, The Last Dragon fan
Celebrities Love The Last Dragon Too!
My New name is "Bruce Leroy" all my peeps is sayin' "I got that glow" ha! #word this how I feel every day http://t.co/wzyM1EnEOz

— marlon wayans (@MarlonWayans) July 16, 2014

Of course they do. Celebrity or not if you grew up in 80's and especially if were black this movie was likely a very enjoyable part of your childhood. I've seen stars like Floyd Mayweather, Marlon Wayons & Chris Rock, Pooch Hall, the RZA, Jill Scott, Keisha Cole & Michael Jai White just to name a few show love for this Motown meets Kung-fu 80's classic. Celebrity Endorsements, yet another good reason this Blu-Ray should get released.

Support The Last Dragon 30th Anniversary Celebration
Well I have high hopes that Sony does see the gem they have in The Last Dragon and I expect them  to make an announcement soon to coincide with the 30th Anniversary. It's now or never. Let's make this decision easy and prove it is the right one by making The Last Dragon 30th Celebration truly an event to remember. If you can't attend spread the word. We need to make sure every Last Dragon fan knows about this event. Please share this article and use the hashtag #thelastdragon30th
Think about it when will there ever be a chance to watch The Last Dragon in same movie theater as Bruce Leroy! The Last Dragon stars like Taimak  (Bruce Leroy), Christopher Murney (Eddie Arkadian) & Ernie Reyes Jr. (Tai)  among others will be part of the biggest cast reunion ever. This will also be amazing opportunity to ask anything you ever wanted to know about The Last Dragon in a Q&A session after the screening. Personally I can't wait to ask Mr. Murney what exactly that was in that tank?
The Last Dragon 30th Anniversary Blu-Ray Features
Here's hoping they include commentary from Taimak, Glen Eaton, Christopher Murney, Ernie Reyes Jr., Faith Prince, Ron Van Clief and any other cast members they can find.   How great would it be if Berry Gordy himself added something?
I would also highly recommend a kid friendly version- I would love to be able to show my 3 year old girl this epic tale of good triumphing over evil where the humble underdog hero learns that he must believe himself to unleash the inner power he possessed all along. It holds great lessons for kids and they really get into and enjoy the fairy tale like story, but there are a few (not many) choice words I don't want my little girl repeating.
Pre-Order The Last Dragon 30th Anniversary Edition Blu-Ray Today!

—————————————————————————————-