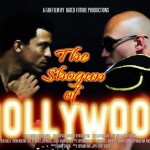 The big studios never made a sequel to The Last Dragon (did you know The Last Dragon 2 was planned in the late 80's?) and all they do is talk about a remake but thanks to Dated Future Productions we now have a second chapter in the adventures of "Bruce" Leroy Green. It's a fun light hearted fan film that pays excellent homage to the 1985 cult classic Kung Fu comedy Berry Gordy's The Last Dragon.
The entire 25 min film is posted below. Check it out and let us know what you think in comments section here, or on Facebook or Twitter.
The Last Dragon 2: Leroy Goes to Hollywood
About The Film
Dated Future Productions made the short for The Last Dragon 30th Anniversary Screening and Fan Film Contest at the 2015 Urban Action Showcase in New York City. It Premiered on Nov 7th, 2015 at the AMC Times Square.
Plot
Leroy heads to Hollywood to visit his girlfriend, Laura Charles, and his old friend Johnny Yu. Laura is filming her new 7th Heaven show on the west coast and Johnny has has opened up his own dojo. After meeting up with Johnny and taking a tour of the town, Leroy finds that trouble seems to find him no matter which coast he is on. First in the form of 3 punk thugs (the new version of the Sum Dum Goy boys) who try to push Johnny around and make fun of  Bruce Lee (I would not do that if I were you)!  Then by a gang leader who goes by the name of Fo'Sho, who aspires to become the Shogun of Hollywood. Too bad for Fo'Sho, he did not plan on a martial arts master like Leroy standing between him and total supremacy.
Credits
Director: Sophano Van
Writer: Danny Chiang
Producers: Danny Chiang, William Christopher Ford , Richard Haywood  and Sophano Van
Directors of Photography: Adam Eurich, Sophano Van
Starring:
Evan Copage as Leroy Green
Anthony Kiyoshi LePage as Johnny Yu
Jujo Ballo as Fo'Sho
Vivian Noeung as Laura Charles
Uncredited as Sasha
Richard Haywood  as Jamal
Apachi Key as Wrecker
Victor Noeung as Russel
William Christopher Ford as Fury 1
Du Au as Fury 2
John Michael Amon as Thug Lead
Dontae Mosbey as Thug Jive
Adam Eurich as Thug Cooley
Richard E. Haywood as the Security Guard
Watch The Trailer
Craig Sutton | @thelastglow
———————————————————————————-
TheLastDragonTribute.com is a blog dedicated to The Last Dragon fan community with the aim to Keep The Glow alive! It was started by a fan for the fans. Follow us from the links below for your daily dose of the Glow!