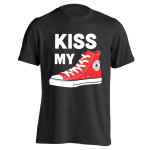 We Like to feature Last Dragon fan art, t-shirts, stories, pictures, etc this month we feature the website DonkeyTees.com​ for their cool Last Dragon inspired T-Shirts. If you are into pop culture and t-shirts and haven't heard of Donkey Tees, this feature may just change your life. Although I doubt you haven't already heard of them because their stuff is everywhere.
Donkey Tees specializes in cool TV, movie, sports, music, geek and all around hilarious cult classic pop culture type t-shirts.  So it makes perfect sense that they have delved into making shirts based on our favorite Motown meets Martial Arts 80's classic. Kudos to them for tapping into the loyal cult following of The Last Dragon.  I mean what movie better embodies a mash up of movies, music, cool and cult classic? And who's the meanest, prettiest, baddest, most classic character in that movie?
SHO'NUFF! THE SHOGUN OF HARLEM!!
AND IF YOU DON'T LIKE THAT ONE YOU CAN…
THIS ONE LOOKS A LITTLE FAMILIAR…
So Last Dragon fans, what do you think of these shirts? If you like you can purchase them from Donkey Tees or by clicking on the photo's above. They've promised me a donkey for every T-shirt I help them sell so please use one of these links if you are going to buy one 😉
More Cool Pop Culture Tees from Donkey Tees
And that's just a taste of some of the awesomeness that Donkey Tees carries.
More Great Last Dragon Inspired T-Shirts
The Last Dragon Inspired T-Shirts by The LastDragon Tribute
Craig Sutton | @thelastglow
———————————————————————————-
TheLastDragonTribute.com is a blog dedicated to The Last Dragon fan community with the goal of keeping The Glow alive! It was started by a fan for the fans. Follow us from the links below for your daily dose of the Glow!