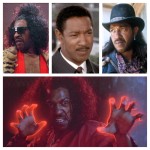 A great action movie is only as good as it's villain, on August 19th, 2008, we lost the man who played one of greatest villains ever, Sho'nuff. Julius Carry the actor who brought life to the infamous self proclaimed Shogun of Harlem passed away from pancreatic cancer, ending an acting career that spanned almost 3 decades.
The Last Dragon Cast Remembers Julius Carry
I caught up with some of cast just before attending The Last Dragon's 30th Anniversary Celebration at the 2014 Urban Action Showcase & Expo (November 8,2014 in NYC) to talk about their thoughts and experiences with Mr. Carry.
It was clear to see how much respect and admiration they had for their colleague.
Here are some of their fondest memories of working with him on The Last Dragon.
Taimak aka Bruce Leroy
"I really respected his talent and loved his approach to his work. He brought everything to it, he was 100% full circle and left no stone unturned. I was most impressed with how he owned the role and how on set he worked hard to bring out the best in those around him. He was fun to work with."
In this March 2014 video, I filmed this while hosting the first ever Last Dragon reunion panel, Taimak recounts a funny story about how Julius successfully helped him stir up some real emotion towards the villainous Sho'nuff:
Glen Eaton aka Johnny Yu
I wish I had gotten to know him better but Julius Carry seemed to me like a very serious person. Not one for small talk. He didn't seem like your average Hollywood actor but more from the method days in the 50's.
One day on set he was getting upset with the fight trainer. He was exhausted from training with the sticks and it was bruising up his arms.
"I'm an actor not a martial artist", he told me.
"What are you going to do now?" I said and he looked at me dead serious with fierce conviction in his eye's and said,
"I'm going to Burger King" in that big Sho'nuff voice.
I had the feeling that if I said "oh that's bad for your health" he would have destroyed me. So I said "Sounds like a great idea!"
Now when I look back I would have loved to talk to him about acting. What you saw on film he would go from serious and introverted to explosive in a second. He made it look so easy, one might not recognize how difficult it is and that's the sign of a good actor, you think he's just being himself.
Kirk Taylor aka Crunch
I remember Julius…
Was he ferocious in his approach to his role in The Last Dragon? Sho'nuff!
In fact, I don't remember him anywhere near the set NOT in character. He was in the head space of "The Shogun of Harlem" constantly. He shared with me that he was having dreams where he was actually fighting with 2 of our film's martial arts advisers, waking up drenched in the middle of the night.
Was JC III committed & involved in making this project great ? Sho nuff!
Off camera, through one of his Shogun growls, he personally named me and the other male lieutenants: "Beast, Cyclone…and Crunch!!" So immersed was his approach, that most people are shocked to here that HE WAS NOT A MARTIAL ARTIST AT ALL! But he sold that, with style and bravado, and dared you to think otherwise!
Was he kind & humble, to an even greater degree that he was ferocious & committed? Sho nuff!!!
I was startled by how gentle and peaceful he was once the film was completed. I ran into him at an audition some years later… I actually didn't even recognize him! Having completed my audition, I was walking out past a group of waiting actors, when I heard a voice whisper, "Crunch?!" It was Julius Carey the third… without braids, weave, or Converse, but with the inner glow that eluded his character in "The Last Dragon". We hugged, smiled, asked how the other was doing… then we gave a final nod, that in a brief moment, spoke of a special bond and affection; one forged in the trenches with Michael Shultz, Berry Gordon and the gang. The eyes said it all… we both remembered, and promised to never forget. That was the last time I saw my brother Julius.
And lastly… Will the world be less without JC3 in it? Once again the answer is Sho nuff!!!
The sentiment was expressed well in another film by our director Mr Shultz. "Cooley High". Glen Turman's character spoke about the tragic death of his friend Cochise, played by Lawrence Hilton Jacobs… he concluded by saying how the world would never know the greatness, the special grace and talent they would miss out on. And so it is with our fallen brother… what life, what fury, what deep compassion he would have inspired, we will never know. But some of us will always remember… And dream.
Janet Bloem aka Sho'nuff's Woman #2
"One of my fondest memories is when he told me and someone else that my legs should be insured! Lol. A good guy gone way too soon. RIP JULIUS!"
Lisa Dalton aka Sho's Woman #3
Julius was a very talented actor– I will always remember a commercial he did where he played basketball in a suit and tie–shortly after this film. It was such a contrast to this character (Sho'nuff). He was warm and supportive to his fellow castmates. He collaborated with his gang to helps us create the tight knit ensemble we became. So sad to loose him to0 early.
Ron Van Clief Fight Co-Coordinator & Legendary Martial Artist/Actor
"Julius was a great guy. With an amazing sense of humor. I trained him and his stunt double Master T Taylor. Many interesting conversations about women and philosophy. Good times and he was a fast learner. A real athlete, thespian and my friend"
Woman and philosophy; very interesting… so what was his philosophy on women?
"He loved women and was in search of the perfect women. He stated that…
Life is nothing without love. To have art was life! You do the best you can everyday for life
Honorary Tribute to Sho'nuff at The Last Dragon 30th Anniversary Celebration
There are many exciting events happening at The Last Dragon 30th Anniversary at The 2014 Urban Action Showcase & Expo including a Q & A with the cast and a screening of The Last Dragon in the AMC Times Square Theater. Now the festivities will also include a Tribute to Julius Carry at Saturday nights award presentations. Just another reason why every Last Dragon fan should be planning a trip to NYC for this once in a lifetime event!
**Nov 16th 2014 UPDATE**
I didn't want to spoil the surprise before the Nov 8th event- Sho'nuff was honored in 2 special ways at the 30th Anniversary Celebration:
1. Guess Who Crashed the Party??
Dressed as Sho'nuff, Vendetta Pro Wrestler Jimi "The Shogun" Mayhem, crashed the screening of The Last Dragon in true Shogun of Harlem style. Read more about that here ~> Who would interrupt The 30th Anniversary Screening of The Last Dragon?
2. Julius Carry's Mom was in the House!!
Helen "Mama Nuff" Carry and some of her family came to the celebration to represent Sho'nuff and excepted an award on his behalf. I've always wondered if Julius Carry knew how much love people had for his character. I am very pleased to say that when I asked Mrs. Carry this question she gave me a confident "YES!" She added that he used to talk about Sho'nuff & The Last Dragon all the time! I was always worried that Julius didn't get a chance to see how much Sho'nuff was appreciated; so although its sad that he couldn't attend the 30th Anniversary Reunion & Celebration having Helen tell me this really made my day.
More Sho'nuff Related Content on TheLastDragonTribute.com:
———————————————————————-
TheLastDragonTribute.com is a blog dedicated to preserving the joy of Berry Gordy's 1985 Motown meets Kung Fu cult classic The Last Dragon. We also delve into all things Bruce Lee, Martial Arts and enjoy reminiscing about 70′s,80′s & 90′s pop culture. Follow us from the links below for your daily dose of the Glow!