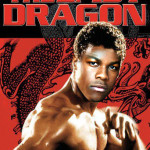 Bruce Leroy has Vanished…
This one's for all the people that only read headlines. A fake Star Wars news site called FakingStarWars.net is reporting that a sequel to The Last Dragon directed by the Hughes brothers is in the works. It even includes a hilariously detailed plot leak of a story that combines the original The Last Dragon with Star Wars the Force Awakens and The Crow.
Taimak and Denise "Vanity" Matthews return to play Bruce Leroy and Laura Charles but the star of this one is their son "Brandon" Leroy Green III, played by John Boyega (Star Wars VII: The Force Awakens).
John Boyega as Brandon Leroy
Brandon Leroy?!?! Brandon Leroy?!? Yeah, that's right, they call him Brandon Leroy. Of course playing off the fact that Brandon Lee was the son of Bruce Lee but also because in the movie he walks around in Brandon Lee's costume from the Crow.
Denzel Washington as Sho'nuff
The Shogun of Harlem, Sho'nuff returns; this time around played by Denzel Washington.
Steven Segal as Sho'Tuff
Sho'nuff partners up with 90's action movie icon Steven Segal, who plays a tough guy named Sho'Tuff, to fill the role of the main bad guys.
Ariana Grande plays the Love Interest
Ariana Grande rounds out the cast playing young Brandon Leroy's love interest.
All in Good Fun
Other than the kudos it gives The Last Dragon for being a "funky cult classic with an arsenal of awesomeness" the article is completely fabricated but it is very creative, laugh out loud funny and definitely worth the read… hit the title below to check it out on FakingStarWars.net…
Let us know what you think? Comment here or Facebook,  Instagram or Twitter.
Craig Sutton | @thelastglow
———————————————————————————-
TheLastDragonTribute.com is a blog dedicated to The Last Dragon fan community with the aim to Keep The Glow alive! It was started by a fan for the fans. Follow us from the links below for your daily dose of the Glow!