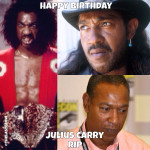 Julius J Carry III was born March 12, 1952. He is best known for playing Sho'nuff in the 80's cult classic The Last Dragon and Lord Bowler in the early 90's classic TV show Adventures of Brisco County Jr.
His acting career spanned over 30 years appearing in many sitcoms and movies through the late 70s, 80s, 90s, and early 2000's. Sadly he passed away in 2008 of pancreatic cancer but his work will live on forever! Today is not the day to think his death but to celebrate his life so without further ado let's appreciate some of his best work from The Last Dragon.
Sho'nuff The Shogun of Harlem
All great adventures need a strong villain; without a great villain, you can't have a great movie. What would Star Wars be without Darth Vader, The Dark Knight without the Joker, or Jaws without the Shark? The Last Dragon lives up to the formula because Julius Carry did such a great job of portraying the over the top villain we all know and love: SHO'NUFF the SHOGUN OF HAREM!
Many of the best lines from this very quotable film were delivered by Sho'nuff:
Am I the Meanest….
Catches Bullets with his Teeth?!?!? Nigga Please!!!
KISS MY CONVERSE!!
 just get that sucker to the designated place at the designated time…
WHO'S THE MASTER?!?
What's Your Favorite Sho'nuff Quote?
As a tribute to Julius Carry on his birthday share your favorite Sho'nuff quote from The Last Dragon on our Facebook page and don't forget to like and share this article! For more great Sho'nuff and Last Dragon Quotes to help you chose your favorite check our Top 22 Last Dragon quotes and List of the best Last Dragon quotes.
Happy Birthday Julius Carry!
Have you seen our Harlem Shoguns Tribute to Sho'nuff T-Shirt?
————————————————————
TheLastDragonTribute.com is a blog dedicated to The Last Dragon fan community with the goal of keeping The Glow alive! It was started by a fan for the fans. Follow us from the links below for your daily dose of the Glow!
Order The Last Dragon Blu-Ray on Amazon!