There are several eerie similarities in the circumstances surrounding the tragic & sudden deaths of  Bruce Lee and his son Brandon Lee. The Improbable explanations for the deaths of both Bruce and Brandon lends to conspiracy theories and further speculation that  a curse was passed down from father to son.  This article will discuss some of that speculation but I want to focus on a several undeniable and agreed upon facts that are very strange coincidences at the very least. In particular there is an eerie link between a scene in one of Bruce's movies and how Brandon was accidentally killed on the set of The Crow.
Eerie Similarities Between the Deaths of Brandon & Bruce Lee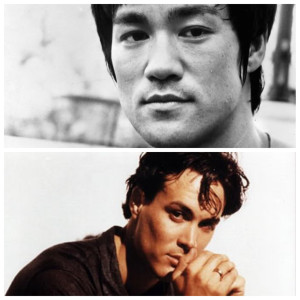 Neither Bruce or Brandon Lee lived to see the release of their biggest Films
These similarities are well documented and often referred to: not only did they both die unexpectedly at a young age, Bruce at 32, Brandon at 28, they were both filming their 5th feature film and they both died just before the release of the films that would make them  huge stars. Neither lived to enjoy the success of their biggest films. Enter The Dragon in 1973 for Bruce and The Crow in 1993 for Brandon.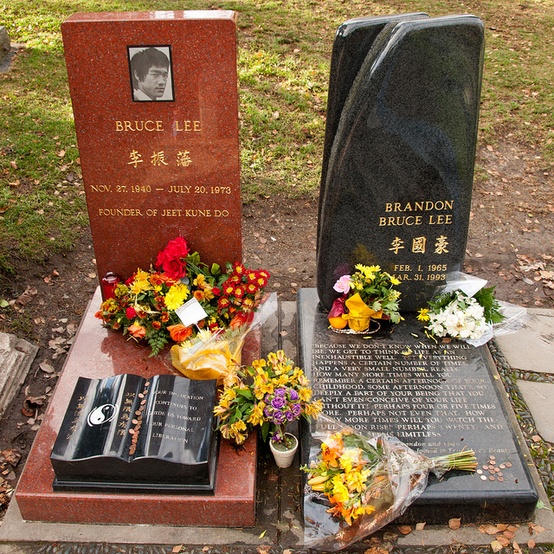 How did Bruce Lee Die?
Bruce Lee died in Hong Kong on July 20, 1973 while filming Game of Death, three weeks before the release of his biggest film, Enter the Dragon. Many rumors surround the death of Bruce Lee, including a hit by the Triads, a delayed reaction to a Dim Mak strike (AKA Death Touch) he had supposedly received in a fight earlier in the week, or a family curse that previously took his older brother and would eventually claim his son. To add to the folklore a mirror that was placed on Bruce Lee's house to ward off evil spirits was blown away in a typhoon the day before his death. The official  cause of his death was listed as cerebral edema (brain swelling) caused by a hyper sensitive reaction to the muscle relaxant meprobamate  in the painkiller Equagesic that he had taken for a headache.
Bruce Lee's Wife Linda Lee Cadwell and Daughter Shannon Lee explain how Bruce Lee Died from "I AM BRUCE LEE"
How did Brandon Lee Die?
Brandon was killed on March 31 1993 while filming the biggest film of his promising young career, The Crow. Many conspiracies also surround Brandon's death. Officially it was determined that he was accidentally killed by the lead tip of a bullet that was unknowingly lodged in a gun that was then loaded with blanks and fired at Brandon during the filming of his death scene.  The unlikelihood and bad luck of the sequences that lead to this accident is easily chalked up to  the family curse and/or conspiracy.
Does Bruce Lee's Movie Game of Death Reveal What Really Killed Brandon Lee?
Now this is the eeriest fact of all that I don't hear much about. Again I am not saying there was any foul play or curse involved in either Lee's death, but no one can deny the fact that in Bruce Lee's movie Game of Death there is a scene that was shot in 1978 15 years prior to Brandon's accident that would prove to be a premonition of Brandon's death. Here's the scene:

In Game of Death  Bruce Lee's character is an actor. While filming a scene in a movie within the movie, prop guns are replaced with real guns and Bruce Lee's character is shot and seemingly killed. He ends up not dying but pretends he is dead and comes back to reek vengeance on the bad guys who tried to killed him (which of course could mean, if you are into conspiracy theories, that Brandon may still be alive and he will punish those responsible for his death much like he did in The Crow! 😉
The freakish nature and improbable series of events that lead to the accidentally shooting of Brandon Lee and the equally difficult to believe circumstances surrounding Bruce's death makes it easy for people to create and believe any number of conspiracy theories and/or curses that seemed to take out both Father and son at similar points in their careers.  Add the fact that Brandon's death seems to be eerily foreshadowed 15 years earlier in Bruce's movie "Game of Death"  can make anyone wonder if these circumstances are just coincidence or some sort of curse as the 1993 movie Dragon: The Bruce Lee Story refers too?
Was Brandon's death really an "accident", did the ultra healthy Bruce Lee just up and die one night because he had an allergic reaction to a headache medicine? I say yes to both, but you never know… What do you think?
Unsolved Mysteries had  a very interesting episode that examined how Bruce & Brandon Lee really died. YouTube keeps taking that video down but here's another video explaining the official causes of Brandon & Bruce Lee's death:
This article was adapted from an original article I first wrote in 1996 then modified again for The Bruce Lee Tribute to First Dragon on The  Last Dragon Fan Tribute Site.

Like Bruce Lee? Check out these other articles on this site:
TheLastDragonTribute.com is a blog dedicated to preserving the joy of Berry Gordy's 1985 Motown meets Kung Fu cult classic The Last Dragon. We also delve into all things Bruce Lee, Martial Arts and enjoy reminiscing about 70′s,80′s & 90′s pop culture. Follow us from the links below for your daily dose of the Glow!