Dressing up as a character from Berry Gordy's The Last Dragon has become a very cool costume idea whether it be for Halloween, Cosplay or an 80's party. What says I am the meanest, prettiest, baddest mofo low down around this town better than shade sun glasses, big teased hair, over sized shoulder pants under a leopard print covered Karate Gi.  Halloween brings out the hidden Last Dragon fan in a lot of people and we have the photo evidence to prove it. Have you seen or have a great Last Dragon outfit? Feel free to tag your pictures with @TheLastGlow on Twitter and Instagram or submit via The Fan Tribute to The Last Dragon Facebook page.
**Sept 2014 Update: Check out More Great Last Dragon Costumes & learn about The Last Dragon Cosplay Contest on Nov 8th at the Urban Action Showcase & Expo
Bruce Leroy, Laura "Vanity" Charles and Sho'nuff Costumes
 The Real Bruce Leroy, Laura Charles and Sho'nuff
Keyshia Cole and Family get the Glow
Even Celebrities can't escape the power of the Glow. Keyshia Cole and her husband dressed up as Bruce Leroy and Laura Charles from the final "All White Party" scene in the Last Dragon where Leroy famously asks Laura "Could you teach me some moves?!?"
As you can see they did a great job of recreating the outfits:
Sho'nuff Costumes
By far the most memorable character from The Last Dragon is Sho'nuff the Shogun of Harlem (RIP Julius Carry) so it's no surprise he is the most popular costume choice.
Which Sho'nuff Costume do you think is the Baddest?
Here are some of the coolest Sho'nuff costumes I have seen so far:
Mauro Balcazar, went all out with his Sho'nuff outfit. He is quite the accomplished artist. He draws, sculpts and even makes T-Shirts for all things comic book and geek. Check out his site when you get a chance:  www.whatsamauro.com
He even constructed light up thingies to make his hands glow just like Sho'!
@MistaDebonair2U 's very Debonair version of Shonuff: "I was told I could find Leroy here"
Who's Badder than @BDAHT!?!?: "I am going to ask you one more time, Who's the Master?! I can't hear you Leroy… I said who is the master?!"

@Gladiator1906:  "Kiss my Converse!"
@WillieDYT: " You see it's mumbo jumbo like that and skinny little lizards like you thinkin' they the Last Dragon that gives kung-fu a bad name."
The Kids get into The Last Dragon Costumes too!
Here's the real Sho'nuff and Bruce Leroy, just before Sho' tells Leroy to Kiss his Converse.
And here's the Jr. version:
More great Kids Last Dragon costumes made by their mother Shaya Zachary:
Looks like  Shaya was inspired by the  Sho'nuff over-sized shoulder pad looks below:
Bruce Leroy Costumes
The Yellow jump suit made popular first by Bruce Lee in the Game of Death, then used as a homage, first in The Last Dragon by Bruce Leroy (Taimak), then Uma Thurman in Kill Bill:
And now: @oeewsij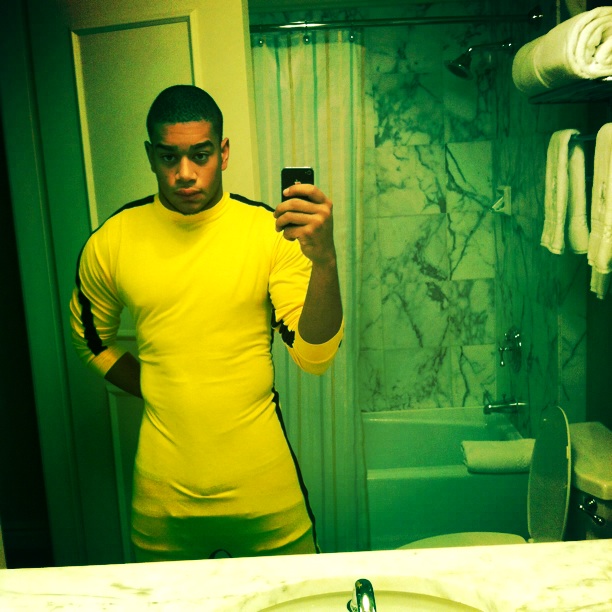 Pooch Hall from 'The Game' would love to be the next Bruce Leroy in The Last Dragon remake. What do you think?
Last but not least the lovely lady Laura Charles played in The Last Dragon by Denise "Vanity" Matthews:
Here's @MerryRenee rockin' the Laura Charles 7th Heaven outfit:
Send us your pics!! @TheLastGlow on Twitter & Instagram  and The Fan Tribute to The Last Dragon on Facebook
 If you liked this you would probably also enjoy:
Comment below…
TheLastDragonTribute.com is a blog dedicated to preserving the joy of Berry Gordy's 1985 Motown meets Kung Fu cult classic The Last Dragon. We also delve into all things Bruce Lee, Martial Arts and enjoy reminiscing about 70′s,80′s & 90′s pop culture. Follow us from the links below for your daily dose of the Glow!